The Forrest Escort Camp
Sons of Confederate Veterans
Villa Rica, Georgia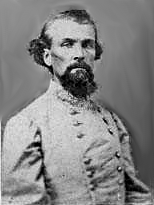 Proudly Presents
A GALLERY OF
DISTINGUIGHED CONFEDERATE GEORGIANS
| | |
| --- | --- |
| | This picture was taken in 1939 at Atlanta's West View Cemetery. This was the first time Confederate Memorial Day was celebrated there. Pictured are unidentified Confederate veterans from the Confederate Soliders Home in Atlanta and Mrs. Grady (Geneva) Andrews, founder of the Dolly Blount Lamar Chapter of the U.D.C. and her granddaughter, Beverly Green (Fuller) in the dress she wore in the "Gone With the Wind"parade in Atlanta. The United Confederate Veterans (UCV) Chapter flag they are holding is the the Tige Anderson Chapter. |
General George Thomas "Tige" Anderson was born in Covington, Ga. in 1824. (Tige meant tiger.) He served in the U.S. Army during the Mexican War, and again from 1855 to 1858. After Georgia seceded, Anderson organized and was elected colonel of the 11th Georgia. He commanded a brigade during the Seven Days Campaign and the battles of Second Manassaas and Sharpsburg. In Nov. 1862, he was promoted to brigadier general, commanding his own brigade in Hood's Division. He and his brigade of Georgians fought at the battles of Fredericksburg, Suffolk, Gettysburg, Chickamauga, and Knoxville. His brigade was a part of General Hood's division of General Longstreet's First Corps of the Army of Northern Virginia. At Gettysburg his brigate played an important role in the attack on the Wheatfield. His brigade was transferred to Field's Division for the battles of The Wilderness, Spotsylvania, Cold Harbor, and Petersburg. His brigade was present at Lee's surrender at Appomattox. After the war, Anderson became a freight agent; the chief of police, first in Atlanta, and, later, in Anniston, Alabama; and a tax collector. He died in 1901 in Anniston.
A Georgia General

One of Lee's Lieutenants, after the War General John B. Gordon., a pre- and post-war laywer and businessman, after the war he was governor of Georgia and one of its U.S. Senators.
A Georgia General

Although he was born in South Carolina, another of Lee's lieutenants, General James (Old Pete) Longstreet, was the son of a Georgia family and grew up in Gainesville. A professional soldier before the War, he became controversial after the War when he became a Republican. Learn more about General Longstreet by clicking here.
A Georgia General

General Howell Cobb, an Athens native who once had his eye on the U.S. presidency, was considered for the presidency of the Confederacy. A lawyer, before the War he was speaker of the U.S. House, governor of Georgia, and U.S. Secretary of the Treasury. He gave up a position in President Davis' cabinet to serve in the army. Although he did not become president of the Confederacy, another Georgian, Alexander H. Stephens, a long-time pre-war U.S. Congressman representing Georgia, became its vice president.
Some other important Confederate Georgians:

Alexander H. Stephens, Vice President of the Confederacy

General Thomas Reade Rootes Cobb

General William J. Hardee

General William Henry Talbot Walker
Georgia's Governor

Called the Ploughboy due to his humble origin, Joseph E. Brown , a pre-war lawyer, businesman, and politician, was governor when the War began and served in that position throughout the War. After the War, he served as one of Georgia's U.S. Senators and headed Atlanta's Board of Education.
Go to 2003 Confederate Memorial Day Ceremony
Go to Memories of the Confederate States of America
---